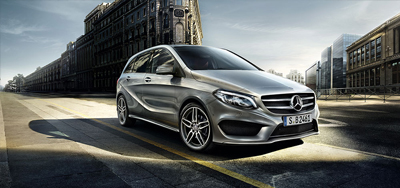 Perfectly content thanks to an enormous selection
Wherever you go in the new B-Class, you go in style. The B-Class is sportier and more individualistic than ever before – with a more dynamic design for the front and rear apron, a range of design and equipment lines and optional design packages, a large free-standing display for the head unit, an instrument cluster with a sophisticated design, and attractive materials and colours throughout.
The characteristic exterior of the B-Class combines functional design with accomplished sportiness. This generation of the B-Class looks even more dynamic – from the newly-designed front section with its optional LED High Performance headlamps to the striking rear apron.
Sporty, elegant design and high-quality materials set the tone in the interior of the B-Class. And the layout is so clear that the driver can concentrate on something that is perhaps not as attractive, but certainly more important: the traffic.
Give your B-Class a look of its own. It is really easy to do with the design and equipment lines. The attractive Style line sets an individual tone and projects an air of self-assurance. The Urban design and equipment line stands for sportiness and expressiveness, while the AMG Line will always make an unparalleled dynamic entrance.
Mercedes in new dimensions
Designed to fit your life: the B-Class
Contradictions provide the dynamic behind all movement – and the trigger for unconventional ideas. How do you go about developing a compact car with as much interior space as possible? How do you achieve the optimum balance between ride comfort and sporty handling? How can a vehicle be practical and elegant at the same time?
The B-Class provides a refreshing answer to all these questions by combining the best qualities of a range of different concepts. The result is a Sports Tourer with an exciting design and a degree of versatility that sets it apart from the rest of its class.