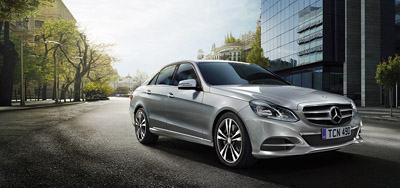 An economic miracle right from the start
The roots of the E-Class can be traced back as far as the early 20th century, although the direct genealogy began in 1947 when the 170 V model became the first Mercedes-Benz passenger car to enter production in the post-war years. It was as inextricably linked to the economic miracle as its successor, the "three-box-body Mercedes", and they set the lead for others to follow, both technologically and economically.
Other legendary models include the "Tail Fin" and the "Stroke/8″, the latter named after its launch year: 1968. Its timeless design still sends Mercedes enthusiasts into raptures to this day. Like the W 123 model series that followed it, it is etched into Germany's collective memory in one colour above all, namely the light ivory shade made famous by the taxi models, Launched in 1984, in 1993 the W 124 model series was the first to be officially named the E-Class. And, two years later, the E-Class wrote design history with its innovative "twin headlamp face".
Finally, the best aspects of the previous eight generations of the E-Class are combined in the ninth: the W 212 model series. Its rear wings are a reminiscence to the "three-box body", while the headlamps bring to mind its immediate predecessor. The high levels of comfort and safety are the result of many decades of development work at Mercedes-benz. Yet the end result is utterly unique: the new E-Class.