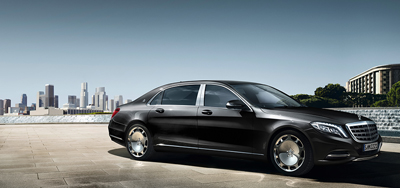 Prestigious, exclusive, unique: the new Mercedes-Maybach S-Class is the ultimate expression of automotive luxury.
Elegant exterior styling is complemented by a lavish interior, where materials and finishes are second to none. Comfort is paramount, with rear seat passengers enjoying a restful, lounge style atmosphere.
There are heated, reclinable seats with built-in massage function and adaptive support. There's ambient lighting and state-of-the-art entertainment. There's even a range of bespoke cabin fragrances and ionised air to ensure you arrive at your destination feeling relaxed and refreshed.
Yet for all this luxury, performance is remarkable – 0 to 62 mph in just 5 seconds – and the ride and handling are equally impressive, with intelligent technologies such as MAGIC BODY CONTROL coming to the fore. Meanwhile, an array of driver assistance systems help to maximise safety and peace of mind.