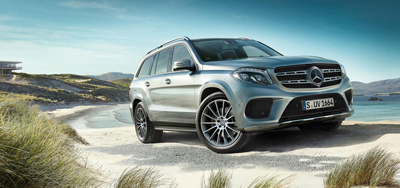 The new lightness of being.
With time, with success, with experience, your goals do not become fewer. But the road towards them becomes more beautiful. More superbly confident. Safer. Everything feels easier on the road in the new GLS, the SUV of the S-Class.Serenity and quiet confidence? Things you have not yet experienced in this form. Power? Sufficient at all times.
With boundless serene majesty the new GLS redefines the concept of comfort. Thanks to the numerous standard and optional equipment items available to it, this SUV embodies calm serenity in every situation.
Aboard the new GLS you can feel secure. Mercedes-Benz's decades of experience have flowed into the numerous assistance systems available, systems that register complex situations and support you both while driving and in hazardous situations.