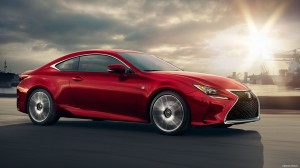 RC 200t
With a sleek coupe body style and a wide, low stance, the first-ever turbocharged RC was designed from the ground up to seamlessly blend eye-catching design with exhilarating and efficient performance.
RC 200t F SPORT
Take the RC Turbo to the next level with a range of exclusive performance and styling upgrades, including a full-faced mesh grille and a suspension tuned by the same team behind the LFA supercar.
RC 300
The first-ever RC 300 combines sculpted lines with all-wheel drive capability, proving you don't need to sacrifice head-turning style for road-gripping performance.
RC 300 F SPORT
Push all-weather performance and sleek styling to its limit with a range of F—SPORT enhancements, including a more dynamic sport-tuned suspension and bolstered sport seats.
RC 350
Take a breath and fasten your everything. Pairing captivating styling with rear-wheel and available all-wheel drive performance, the RC 350 puts you in full command of a potent engine with impressive horsepower.
RC 350 F SPORT
For those craving a double shot of adrenaline with their double-take-worthy styling, the RC 350 F SPORT offers a variety of exclusive upgrades, including new lateral performance dampers and a limited-slip differential.